Welcome.
Ahhh, dear readers, the time has come once again to bludgeon you with irreverence and information all to do with Thousand Faced Theatre Company. So to seamlessly segue out of the intro, let's move to:
FUNdraising First things first, as a company we must say from the bottom of our hearts, ~*THANK YOU*~ to everyone who donated to our April fundraiser. Together we raised almost $1,300, all of which will be matched and used to fund our upcoming projects. All donations will be retroactively tax deductible upon our acquisition of non-profit status, and all tier rewards should be received by June 15th. Also, if you missed the fundraiser but still want to donate, our GoFundMe is still live, so feel free to throw more money at us! That said, let's see where all your generous contributions are going:
Lookout! Who Run the World? TFTC will be presenting a new and improved version of the show that started the company Typed Out: A Princess Cabaret! The show challenges the traditional idea of the "princess type" by giving women of traditionally marginalized groups the platform to take ownership of songs we have previously seen only reserved for a select few. The night is a celebration of female empowerment and representation, with a portion of proceeds going to the Lower East Side Girls Club to inspire future generations of women to challenge preconceptions and biases as they continue their education and ultimately impact the world. The show will be on Friday, May 31st at 11:30pm at Feinstein's/54 Below. Get your tickets here before they're gone, and we'll see you there!
Not only did your generosity help fund a great cause and an amazing show, it helped fund a great cause and 2 AMAZING SHOWS! Forgiveness, Can You Imagine? Our very own Nathan David Smith will be making his playwrighting debut this summer with his short play Honesty in an Apology. The show will be a part of New York Theater Festival's Summerfest at the Hudson Guild Theater. Shows are July 3, 5, and 7 and tickets can be found here.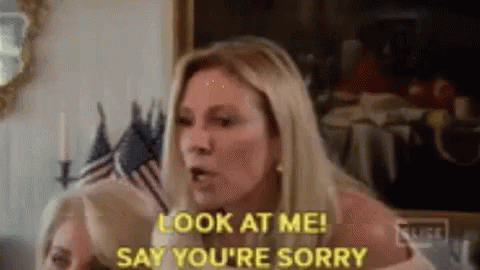 Calm down Ramona. Now it's time to get personal. Here's what we've been up to this month! Behind the Curtain The past weekend 4/5 of the company housed our friend Tyler Thompson while he visited New York City for the first time! We had a blast visiting parks and museums during the day and seeing The Prom and Beetlejuice while he was here. Though sleep deprived, we couldn't be more glad that he came (and gave us an excuse to see a couple Tony nominated shows.) On May 21st Business Manager Matt Schultz celebrated the 5 year anniversary of meeting his fiancee Kellie McMenemon! Whoa! That's all, we're boring. Matt Schultz Reviews Now for a new segment in which we get company member and theatre aficionado Matt Schultz's take on the latest shows he's seen. This week he reviews Ink by James Graham now playing at the Samuel J. Friedman Theatre. Matt: "I liked it. It wasn't as much about Rupert Murdoch as I thought."
Thus concludes our new segment. Check in next month to get Matt's opinion on another pivotal piece of New York Theatre!
Doing the Thing Here's what the rest of our community will be up to in the coming weeks:
Matheta Dance is having a show at Judson Memorial Church on Friday, May 24th at 7:30pm. Get tickets here. Ari Conte will be performing her one woman show The Women We Carry at The Green Room 42. The show performs at 7pm on Sunday, June 2nd and tickets can be found here. Congratulations to Caitlin Fahey who just closed By Jupiter at the Vineyard Theater! Alec Brown, Carly Hayes, and Tucker Murray perform Peter, Paul, and Carly at The Duplex on Friday, May 31st at 9:30pm. Feel free to start your night there and head on up to 54 Below afterward! Their tickets can be found here. On the Quays is presenting #howaboutlove: World Pride, 50 Years of Divas! at The Green Room 42 as part of the Stonewall 50/World Pride celebration. Shows will be Sunday, June 23rd at 7 and 9:30pm. Get your tickets here.
You've done it again! You got all the way through our newsletter and soaked up every bit of information we had for you, well done. Let me know how much you loved (or hated) it and what you would like to see added (or subtracted).  Shout out to MVP newsletter reader Zach Decker. (<-- See, this could be you.) You're the best,  All the love, Thousand Faced Theatre Company